How Expensive is it to Purchase a Real Estate?
How Expensive is it to Purchase a Real Estate?
Whether you're a single adult or married with children, Turkey offers a high standard of living and a vibrant way of life. From its stunning architecture to its magnificent natural beauty, there's a lot to love about life in Turkey.
Of course, when people hear about the high quality of life in Turkey, it is not uncommon for them to assume that it must be quite expensive to purchase a real estate in Istanbul. However, this isn't necessarily the case.
Just like any developed nation, Turkey is home to many stunning mansions and villas. While these houses are quite expensive, they're still much more affordable than a comparable home in the United States or the European Union.
If a nice single-family home is more your style, you'll be pleasantly surprised at the prices that you'll find in Turkey. A regular 2- or 3-bedroom home in a nice neighborhood in Turkey is likely to be significantly cheaper than it would be in another country.
How Expensive is it to Purchase a Real Estate?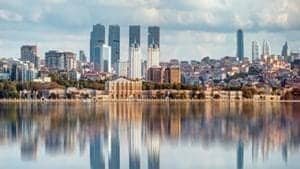 Not only are property in Turkey more affordable than they are elsewhere, but they're also extremely easy to buy. In most cases, the property developer will work with you to develop a monthly payment plan to buy the property – meaning you never even need to step foot inside a bank.
If you want to purchase affordable real estate in Istanbul Turkey, reach out to us today. Our helpful team of experts will be able to show you the latest property listings, answer your questions, and walk you through the home buying process.